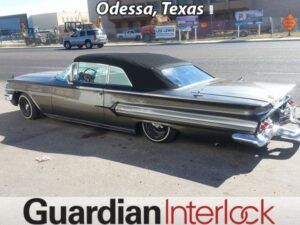 If you are in need of an ignition interlock installer in Odessa Texas, go see the guys over at Extreme Sounds in Odessa. They are our Guardian Interlock certified service center in Odessa. They'll definitely treat you right, they have an A+ rating from the Better Business Bureau in Odessa, and have been serving the fine folks in Odessa since 2004. Extreme Sounds specializes in high end vehicle customization's; cars, trucks, boats, ATV's… you name it and Extreme Sounds can customize it to suit your personal tastes. Whether you are looking to have a pumping audio system in your car or boat, or custom fabricated tuned speaker boxes for your rig, or an ignition interlock installed, Extreme Sounds is the place to go. They also do custom interior upholstery work that will make your signature ride stand out from the others.
Call
800-499-0994

to schedule an installation.
Fill out our form to receive a $20 discount on your installation fee.
Extreme Sounds in Odessa Texas has an average of 4.5 out of 5 star rating in their reviews on Facebook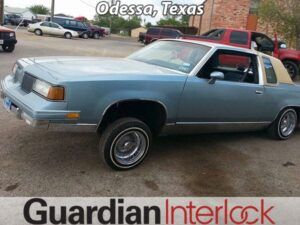 Extreme Sounds also does custom hydraulics to make your ride pimp! Check out the low-rider with the front-end popped…wow! They feature four vehicles bays and two Guardian Interlock certified technicians that will install your ignition interlock device and provide comprehensive training on the use of your car breathalyzer system. They will also uninstall your ignition interlock when you are done with the program. You may also come to this location for your scheduled monitoring, monthly or ad hoc reporting, and ignition interlock device calibration. We are proud to have Extreme Sounds on board as part of the Guardian Interlock team!
Learn more about Texas DUI DWI laws, license revocation, fines and jail sentencing.
The Extreme Sounds shop is easy to find… they are located at 404 W University Boulevard, across the street from Odessa College, between Henderson Ave and Ranchland Ave, right next door to Absolute Auto Glass in Odessa. If you need a bite while you are having your ignition interlock installed, next door is Alfredo's Palateria Mexican Restaurant, and there's a Bush's Chicken a few blocks away at the intersection of Andrews Hwy and W University Blvd. In addition to serving clients in Odessa Texas, Extreme Sounds also serves the surrounding communities of Notrees, Goldsmith, Gardendale, Midland, Midkiff, Rankin, McCamey, Fort Stockton, Grandfalls, and Monahans Texas.