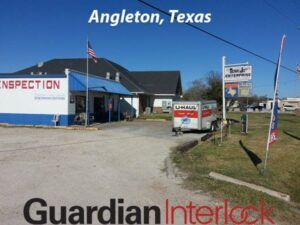 If you need to rent a U-Haul, vehicle emissions or inspection, or need a car breathalyzer installed in Angleton Texas, head on over to Terri Jo's Enterprises at 1981 E Mulberry Street (Tx Hwy 35). They are a family owned and operated business that have been serving the folks in Angleton from the same location since 1995. The owner, Jim Edenfield used to be a pro fisherman and guide before opening Terri Jo's, and knows a thing or two about treating people right. Terri Jo's takes pride in their family owned business atmosphere with honest service and quality workmanship. Their first-time customers continually become their long term customers time and time again, choosing Terri Jo's for all their needs.
For most people, car inspections in Angleton are not fun or convenient. So let us make this process as easy and enjoyable as possible for you. We genuinely care about your time and your experience, and it shows.
~ Jim Edenfield – Terri Jo's Enterprises LLC
Terri Jo's Enterprises are contracted by the city Angleton and Brazoria County as a Certified Texas State Vehicle Emissions and Inspection Station. They have three vehicle bays and two Guardian Certified Ignition Interlock technicians on-site to make your visit as quick as possible. Their shop is easy to find too… just twelve miles from the Gulf of Mexico, they are located between The Budget Inn Motel and Dixon Funeral Home, right across the street from Mrs. Baird's Bakery Outlet. Terri Jo's has a waiting room for customer's to use while they are getting their ignition interlock installed or serviced, and there's a Duran's BBQ across the street if you're feeling the need for some of that famous Texas Bar-B-Que! There's also a Buc-ee's Convenience Store right down the street at the intersection of Hospital Drive and E Mulberry Street.
Did you know?
Angleton Texas is the home of the 10-day Brazoria County Fair.
In addition to Angleton, Terri Jo's also serves these surrounding communities;
Lake Jackson Texas
West Columbia Texas
Ridgewood Texas
Alvin Texas
Danbury Texas
Learn more about Texas DUI laws.
Terri Jo's will install your ignition interlock and provide comprehensive training on the proper use of your car breathalyzer, and they provide scheduled monitoring, ignition interlock device calibration, and monthly reporting. Fill out our form to receive a $20 discount on your installation fee and call 800-499-0994 to schedule an installation.