Ignition Interlock El Paso Texas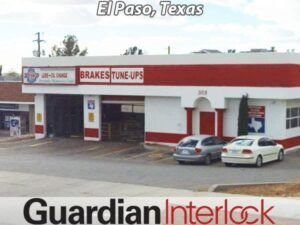 Whether you are preparing for a road trip, or need an ignition interlock installed in El Paso Texas, take your car over to Pit Stop Lube Center, they are our Guardian Interlock certified installation and service center in El Paso. Robert Gomez runs the shop, it's a great place to prep your vehicle with a tire change and rotation before you head out on that road trip. You may want to make sure your engine is healthy and running smoothly with a quality oil change as well. Have some unsightly dents in your ride? Maybe just some scratches that need to be buffed out? Robert and the guys at Pit Stop Lube Center's body shop will service your car competently, honestly, and perfectly in El Paso. Pit Stop Lube Center's expert body repair team is prepared to help rid your car of any surface blemishes, just ask them about their scratch and dent repair service.
Call
800-499-0994

to schedule your ignition interlock installation today!
Fill out our form to receive a $20 discount on your installation fee.

Learn more about Texas DWI Laws and how an ignition interlock can help you.

When your vehicle is in need of repairs, you want them done fast. Pit Stop Lube Center will get your car back to running and looking as good as new, and they'll make short work out of your ignition interlock installation too! For a job well done, there's simply no better place to go than Pit Stop Lube Center's auto shop in El Paso Texas. They have been doing business in El Paso since 2000, and have an A+ Rating with the El Paso Better Business Bureau.

Maybe you'll want to grab a bite while your vehicle is being serviced. There's a 7-11 right next door, and down the street a ways in the Shadow Mountain Shopping Mall there's an Eloise Restaurant. Their shop is easy to find, they are the third building on the left, just north of the intersection of Shadow Mountain Drive and Caprock Court, two tenths of a mile south of Silver Springs Drive. In addition to serving customer's in El Paso Texas, Pit Stop Lube Center also serves the surrounding communities of Prado Verde, Canutillo, Vinton, Westway, and the folks over at Fort Bliss Texas.

The Guardian Interlock Certified technicians at Pit Stop Lube Center in El Paso Texas will install your ignition interlock system, provide comprehensive device training on the use of your car breathalyzer, perform monthly reports and your scheduled monitoring.