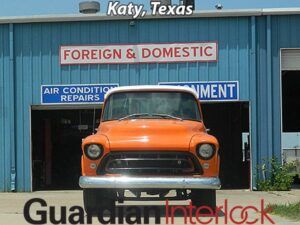 If you're looking to get a car tune-up, an oil change, or perhaps an ignition interlock installed in Katy Texas, look no further than Westside Auto. They are an independently owned and operated automotive company, dedicated to family-style service and excellence in automotive repair. Mike's Westside Auto's technicians have over 70 years of experience between them. As a small business they are focused on ensuring quality customer care to every person who walks through their doors. and they strive to make sure that you leave their shop feeling like you received the best possible attention to your needs.
Mike's Westside Auto is also a Texas Motor Vehicles Certified Inspection Station that has been in business since 1982. Their five-vehicle bays and Guardian Interlock installers guarantee your visit will be friendly as well as quick and hassle-free. So whether you need your car serviced, or a car breathalyzer unit installed in your vehicle, go see the folks at Westside Auto – they'll treat you right.
Great service with integrity. This is a hard-working, honest shop. We've been going there for decades, and I highly recommend them to anyone in the Katy area!
Facebook Review ~ Marcia V.
Learn more about Texas DWI laws and how they may affect you.
Mike's Westside Auto, our service center in Katy Texas, will install your vehicle's ignition interlock and provide comprehensive device training to customers so you can properly operate your car breathalyzer unit. They provide scheduled monitoring and reporting as well. Mike's Westside Auto is an integral part of the Katy Texas community, and are always reaching out through volunteer work and donations to charities. They also offer promotional discounts to other local businesses and schools. Mike's Westside Auto is proud to be a part of Katy's growing business community, and we are excited to welcome them into the Guardian Interlock family!
Did you know?
Westside Auto offers a 1 Year or 12,000 mile Nation Wide Warranty that will cover you coast to coast on all repairs.
They also offer a Customer Shuttle Service if you have places to go while they work on your vehicle.
Fill out our form to receive a $20 discount on your ignition interlock installation fee and call 800-499-0994 to schedule your ignition interlock installation today!
Directions to Westside Auto
From I-10 and the Beltway (Sam Houston Parkway) – Head West on I-10 and exit Grand Parkway North (U.S. 99).
Take the Franz Rd. exit and turn left on Franz Rd (West).
Drive to the 3rd light which is Porter Road and turn right (North).
Just as you pass Faith West Academy, Westside Auto is the light blue building on the left, on the corner of Porter Rd and Katex Blvd. You can't miss it!