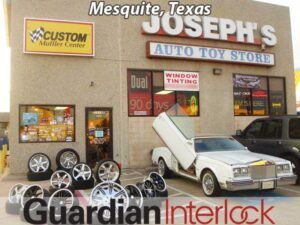 If you need some serious vehicle customization's or an ignition interlock installed in Mesquite Texas, go see P.C. Joseph and his staff over at Joseph's Auto Toy Store. They don't call it an "Auto Toy Store" for nothing… they have been doing high-end vehicle customization's since 1984, and their shop in Mesquite Texas opened in 1987. They have remained in the same location at 2939 N Galloway Avenue since 2003. Staying power like that shows they have a lot of experience and a lot of happy customers that keep coming back. They have a reputation with locals in Mesquite as "THE" place to go for audio, video, lighting, tires and wheels… you name it, Joseph's Auto Toy Store is fast becoming recognized as a leading one-stop restyling center. We are very happy to have them as our Guardian Interlock service center in Mesquite.
Did You Know?
Joseph's Auto Toy Store has been featured on shows like Pimp My Ride, Unique Whips, Overhaulin', and Horsepower TV.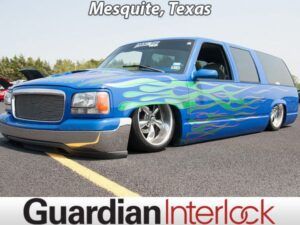 Learn more Texas DUI/DWI laws and enforcement, and how they may affect you. Fill out our form to receive a $20 discount on your interlock installation fee and call 800-499-0994 to schedule your interlock installation today!
Of course they install interlocks… they also provide comprehensive device training on the proper use of your car breathalyzer. AND they will do your scheduled monitoring and monthly data reporting from your interlock device. But, their main business remains high-end vehicle customization's on cars, trucks, and boats. Joseph's Auto Toy Store is a FACTORY-AUTHORIZED dealer for high-end brands such as Alpine, Pioneer, Arc Audio, Bazooka, Dual, DB Research and more. Everything from headrest monitors, in-dash monitors, flip down video monitors, custom audio boxes, bluetooth, vehicle alarms, keyless remote entry systems, all that plus they do custom fabrication and custom interiors. There is pretty much nothing that they can't do as far as customizing your vehicle.
They've been at the same location in Mesquite since 2003, and their shop is easy to find. They are one mile east of the Town East Mall, right across the street from Dr. Ralph Poteet High School. In addition to serving customer's in Mesquite, Joseph's Auto Toy Store also serves the surrounding communities of Centerville, Sunnyvale, Heath, Forney, Lawson, Heartland, and Balch Springs Texas. So if need an interlock installed or you're looking to "Pimp Your Ride", go see Joseph's Auto Toy Store. They do amazing work… see for yourself at Joseph's Auto Toy Store's Flickr Gallery – awesome!