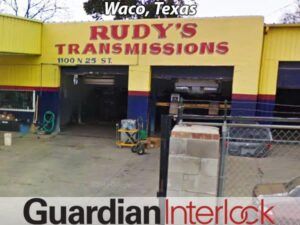 You need an ignition interlock installed in your car and you're in Waco Texas… what do you do? Take your vehicle over to Rudy's Transmission Service. Rudy's Transmission is located at 1100 N 25th Street in Waco Texas. They do all types of vehicle maintenance and repair; they service vehicles for clutch repair, transmission repair and rebuild, differential repair and rebuild, transfer case repair, and axle repair. Rudy's Transmission has been a staple in Waco since 1980, they service foreign and domestic vehicles, as well as automatic and manual transmissions. So, if you need repairs on anything related to your drive train, go see the good folks at Rudy's Transmission, it's their specialty!
What you need to know about Texas DWI Laws, License Revocation, Fines and Jail.
Rudys gave me a very good price on my transmission. They were the lowest quote by far in the Waco, Temple area. Quality service and good customer service. Very happy with the job performed. Would recommend to family and friends! ~ Nicholas V – Google Reviewer – 5 Stars
Call
800-499-0994

to schedule your ignition interlock installation today!
Fill out our form to receive a $20 discount on your installation fee.

Rudy's Transmission is easy to find; they are in what was known as the "Silk Stocking District" of Waco, about 4.4 miles west of Baylor University in Waco Texas, at the intersection of North 25th Street and Cole Avenue. They are one block north of the old 25th Street Theater (which is set to re-open sometime in the future), on North 25th Street, across the street from Red Men Bingo Hall. Rudy's Transmission Service is almost halfway between Dallas/Forth Worth and Austin, and also serves the surrounding communities of Hillsboro, Corsicana, Palestine, Madisonville, College Station, Round Rock, Temple, Killeen, Brownwood, and Stephenville.

Did You Know?
Waco is in the heart of Texas with 81 percent of the state's 23 million people living within 200 miles.
Learn more about Waco at the Waco Chamber of Commerce website.

The ignition interlock technicians at Rudy's Transmission will install your vehicle's ignition interlock system and provide thorough training on the proper use of your car breathalyzer unit. Rudy's Transmission Service will also provide your scheduled monitoring, monthly or ad hoc data reporting, and calibrate your ignition interlock unit.