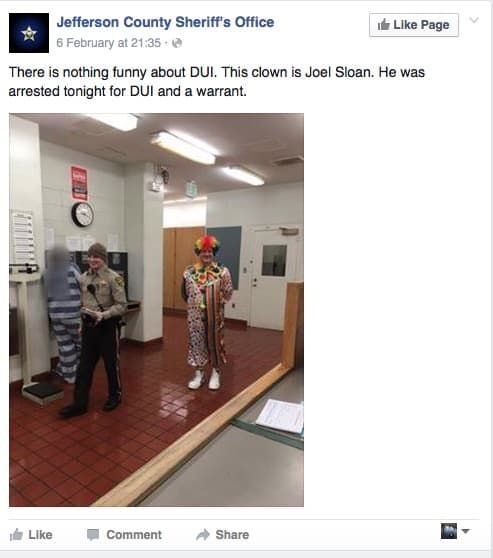 All the world loves a clown, right? Wrong. There are some people who are genuinely afraid of clowns. Although full-blown coulrophobia, the term for an irrational fear of clowns, is rare, it's also an actual thing that a lot of people suffer from. Hopefully the police officers at the Jefferson County Sheriff's Office in Birmingham don't have that fear, because they just arrested a clown for DUI in Alabama.
On February 7th a deputy was on routine patrol when the driver of a car flagged him down. The driver told him that he saw a red Ford SUV swerving from lane to lane, and when the deputy spotted the truck during a search, the erratic driving he witnessed was enough to make him pull him over.
When he approached the car, he saw a clown sitting in the drivers seat. The officer began questioning the clown by him whether or not he'd been drinking. The clown stated that he'd had a few drinks. Upon further questioning, it was also discovered that the clown had a warrant out for his arrest on a felony charge of Theft of Property 1st Degree.
The officer arrested the clown for DUI in Alabama as well as the outstanding warrant, and now he's cooling his heels in the Jefferson County Jail. For their part, the officers at Jefferson County obviously have a funny bone, because they publicized a photo on Facebook of the clown being processed for DUI with the caption, "There's nothing funny about DUI."
All clown jokes and clown car references aside, the police are right, there's nothing funny about DUI. If this is his first offense in Alabama, this clown is facing fines up to $2,100, a 90 day driver's license suspension, and a DUI court referral program.
Everyone does not love a clown, and police love them even less when they are drunk behind the wheel, so if you want to get home safe and sound, make sure you skip the costumes and drive sober.