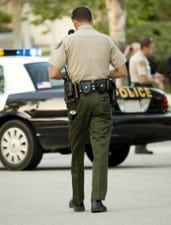 No matter where you are in the United States, one of the first rules you'd learn if you were to become law enforcement is to uphold the letter of the law. So what happens when police officers break the law like the offenders they're supposed to be out arresting?
When it comes to drinking and driving, police officers who drive while under the influence can and will be arrested just like anyone else. A great example? Oklahoma Highway Patrolman Joshua Davies was arrested and jailed in Seqyoyah Country after he crashed the state vehicle he was driving and the boat he was hauling jumped off the trailer hitch and flipped several times before landing in someone's yard.
Suspected of driving while intoxicated (DWI), he was taken into custody after attempting to flee the scene and was found to have a blood-alcohol level of .26. Because he's law enforcement, he was placed on administrative leave from his job pending his DUI judgment.
Officer Davies isn't the only member of law enforcement in trouble with the law recently. An Indianapolis Metropolitan police officer is in hot water after he was arrested for driving under the influence (DUI) a second time within a year. According to arresting officers, he was driving his patrol car at the time of arrest, and department policy states if an employee is caught with a blood alcohol level (BAC) of higher than .02, he or she will be fired. He's currently on leave without pay and the review board is recommending his job be terminated.
Just like everyone else, police officers who drink and drive will receive jail time, fines, and may be required to install an ignition interlock device in their personal vehicle should a judge decide it's necessary. Drinking and driving is a choice, and in the case of these officers, it's a choice even law enforcement may make from time to time.