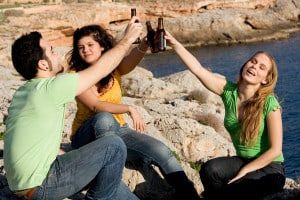 It's back to school time again, and with back to school comes teens getting together for parties to kick off the school year. With these teen parties comes the possibility of teen drinking, so this year Mothers Against Drunk Driving (MADD) would like parents to sit down and talk with their teens about the dangers of teen drinking and teen drinking and driving.
Although most states have a zero-tolerance policy for anyone drinking under the legal age of 21, the Centers for Disease Control and Prevention (CDC) estimated that almost 1 million high school aged teens choose to drink and drive in 2011. That number may seem high, but it has dropped over the past decade. In 1991, there were 50% more teens drinking and driving than in recent years.
But a decrease in the number of teens driving under the influence (DUI) hasn't stopped teen crashes. Crashes are the biggest cause of death for teens in the United States, and teens are four times more likely to die in a crash than someone over the age of 21. An even bigger eye-opener is data from the National Highway Transportation Safety Committee showing that over 500 people died in 2011 crashes as a result of drinking and driving by teens between the ages of 14 to 18.
Statistics like this highlight why it's so important to sit down with your teens and discuss the dangers of drinking as well as the dangers of drinking and driving. Yes, it's a lot less likely than in years past that teens will drink and drive, but it's something that's still happening all over the United States.
The beginning of the school year is one of the most dangerous times for teen drinking, so make sure your teen kicks it off the right way by encouraging them to make responsible choices, not drink until they are legal age, and never get behind the wheel if they've had a drink.