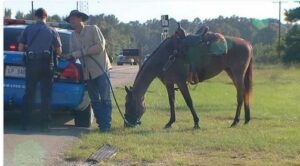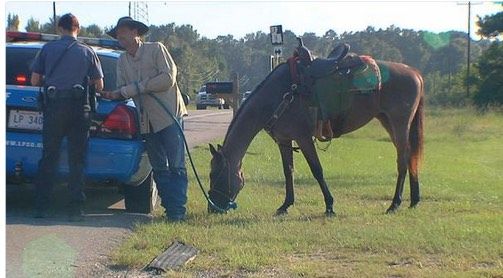 There are some easy ways to avoid a driving while intoxicated (DWI) charge. If you haven't picked a designated driver before you go out, you can call a cab, call Uber, or anyone else you know who hasn't had a drink. Or, if you're like a Watson, Louisiana man, you could rely on one of man's best friends: a horse.
When Jake Williams stopped at a local watering hole to have a few drinks, he had his horse in a trailer behind his truck. Once he walked out, he decided he was too drunk to drive. That's when he opened up his trailer and pulled out his horse Sugar.
His reasoning? The horse knows the way home, so if he's too drunk to drive, it was his best option for a safe ride. You have to applaud him for not making the decision to drink and drive in his truck, but local police weren't that happy with his choice of ride. Because the horse wasn't a motorized vehicle, they couldn't charge him with a DWI in Louisiana. What they did charge him with was public intoxication.
There are some states where you may be charged with driving under the influence (DUI) or DWI. There was a case in Florida where a man was charged with both DUI and animal cruelty for riding a horse home drunk, but he wasn't convicted.
In the case of the Louisiana man, he's lucky he missed out on the DWI charge. If it was his first DWI in Louisiana, he'd receive 2 days up to 6 months in jail, up to $1,000 in fines, a 90-day drivers license suspension, and it's possible he'd have to install an ignition interlock in any car he'd drive.
This incident is a great reminder of a few things: you should never drink and drive, drinking and driving on any type of vehicle is against the law, and horses should never be your vehicle of choice when you're drunk.