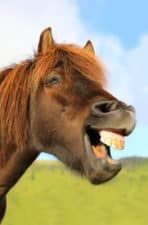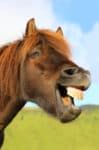 Recently the California Highway Patrol made one of the thousands of DUI arrests it makes each year. What was different was that the driver was on a horse at the time.
A man rode his horse onto State Route 91 in Long Beach. Upon his fairly immediate arrest  he was tested and found to be  more than twice over the legal .08 limit, with a blood alcohol concentration of 0.21.
The charge was riding a horse under the influence: RHUI?
In California, you are technically allowed to ride an animal on a highway, believe it or not. California Motor Vehicle Code 21050 says:
Every person riding or driving an animal upon a highway has all of the rights and is subject to all of the duties applicable to the driver of a vehicle.
Those duties include not obstructing traffic. Since any horse will block traffic on a fast-moving Los Angeles freeway, it's safe to say that horses are unwelcome. Apart from that, riders must obey the rules of the road, which include signaling turns and stops, obeying signs, and of course – not being drunk. The driver in this case was in clear violation.
Hence the CHP's tweet:
No, you may not ride your horse on the freeway, and certainly not while intoxicated. #CHP

— CHP Santa Fe Springs (@CHP_SFS) February 24, 2018
And that is as it should be. A drunk horse rider is a danger to himself and others in most circumstances, and even more on State Route 91. For that reason, the rider will face some sort of DUI-related charges.
Note: Los Angeles is one of four California counties which requires ignition interlocks – devices preventing a vehicle from starting if the driver has been drinking – after a DUI.
Anyone know how to put an ignition interlock on a horse?