It seems that every day another sports figure is slapped with a DUI. The connection between alcohol and major sports has been reported on, if not studied well, for years.
Usually, though, it's football, baseball, or basketball. High-profile televised ball sports seem to breed players who need to test their mettle by driving drunk, risking lives and careers.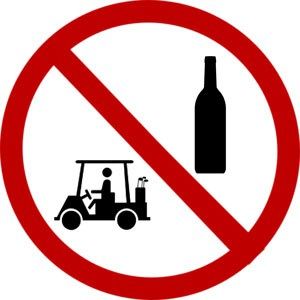 Last Saturday golf got added to that list of infamous sports. And the vehicle was not a Corvette owned by an overpaid player, but a golf cart whose driver had been assigned to ferry golf analyst Roger Maltbie around the green in Pinehurst, North Carolina. Reports state that the driver refused to heed the order of a North Carolina state trooper to stop, and he then proceeded to run over the trooper's foot.
The policeman leaped onto the cart and arrested the driver, who has been charged with what is probably the largest assortment of crimes ever associated with a golf cart: assault on a law enforcement officer, hit and run, driving while impaired and resisting, obstructing and delaying a law enforcement officer.
Let's hope this is not a trend. It is depressing enough to read about NFL players who have DUI convictions. What's next? Bowling?
There are two lessons that the driver of the golf cart can take away from the incident. The first, shouted by the arresting officer, is, "When a state trooper tells you to stop, THAT'S what you're supposed to do!"
The second is: don't drink and drive. How many times do we have to say it?