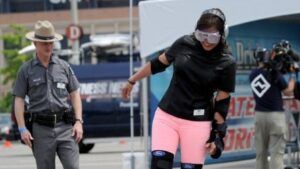 It's summer, teens are out of school, and the roads are full of people traveling to and from their summer vacation rentals or out for a night on a patio somewhere in the city. Although summer is one of the best times of the year as far as fun and good weather are concerned, it's also the deadliest season for teen drivers.
The 100 Day stretch that happens from Memorial Day to Labor Day is the time of year when many, many teens are injured or killed on United States roadways. To bring awareness you may see ad campaigns geared at preventing teen fatalities in the summer, public service announcements from organizations like Mothers Against Drunk Driving (MADD), and this summer teens may also see an impairment suit brought to you by the Ford Motor Company.
The impairment suit simulator is part of the Driving Skills for Life (DSFL) program, and it's designed to teach newly licensed teen drivers what it's like to drive drunk. With goggles to blur your vision, weights to make your arms and ankles feel heavy, and headphones to alter your hearing, the impairment suit attempts to mimic exactly what it would be like for anyone who decides to have a few drinks then get behind the wheel.
Ford is touring the impairment suit all over the country, with stops in major cities and at major events where teens will be. Although teens may think it's fun to try on the suit, the goal is to really get them thinking about just how alcohol can affect you when you're driving, and if they have first hand experience, it may just stop them from making the choice to drink and drive.
You can find out more about Ford's impairment suit and where it's touring at drivingskillsforlife.com.
Image from drivingskillsforlife.com