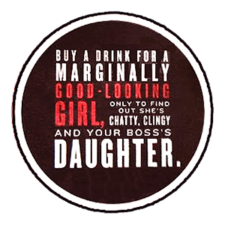 One of the most common outcomes of drinking a lot of alcohol is that your judgement becomes seriously impaired. When people are drunk they make bad decisions like getting behind the wheel and driving, and that decision can result in car crash or a driving under the influence (DUI) charge. The Tennessee Governor's Highway Safety Office wanted to highlight that danger to people in pubs and nightclubs, so they launched a campaign called '100 Days of Summer Heat Booze It and Lose It Campaign.'
Although the intention was to stop drunk drivers, the campaign was cancelled almost immediately because it was deemed to be sexist. That may have been because some of the promotional materials had slogans like this one—"After a few drinks the girls look hotter and the music sounds better. Just remember: If your judgement is impaired, so is your driving."
It couldn't have been easy to pull the plug on the campaign after the Tennessee Governor's Highway Safety Office put over $77,000 of federal monies into table tents, posters, and coasters. After one weekend, every single piece of material was pulled from Tennessee establishments. The campaign's companion website, complete with graffiti characters who engaged in binge drinking and made the decision to not drink and drive, was also taken down.
Clearly the campaign intended to reach that demographic of young men who are more likely to drink and drive, and it may have been designed to get the attention of people who would normally ignore standard ad campaigns because they don't feel drinking and driving statistics or the possibility of crashing applies to them.
Even though the campaign has been cancelled, the intent was to stop people from drinking and driving and that's not a bad thing. In the long run, maybe the negative attention the campaign received will have a positive effect and make people think twice about drinking and driving.