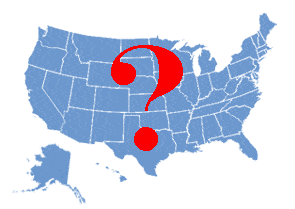 Have you ever wondered where the worst drivers in the United States live? Given Florida's track record you would be forgiven for thinking it held this distinction, but you'd be wrong: thanks to California drunk driving and distracted driving, it's the Golden State that reportedly has the Worst US Drivers by State.
You now know where to avoid driving thanks to a new report by a marketplace website called QuoteWizard. They did a study focusing on crashes, fatalities, traffic tickets, DUI arrests, and speeding tickets. Compiling millions of pieces of data, they came up with a list of the best and worst drivers in America.
Given the combination of California drunk driving arrests and tickets written for distracted driving, the state was able to jump from its 2016 second place finish to first place for 2017. The authors of the study cited Los Angeles gridlock as a hot spot for bad driving, and they also ranked several California cities; Riverside, San Diego, Los Angeles, and Bakersfield as being on the list of cities with the worst drivers. Sacramento held the distinction of being the number one worst city in the nation.
With data like this showing the cold, hard facts about driving in California, residents should be glad that there is a new ignition interlock law on the horizon. Expanding on the current pilot program taking place in several counties, the new ignition interlock law will be implemented in January of 2019. At that point ignition interlocks will become an option for all drivers in the state, and if enough people put them to use, there should be a significant drop in California drunk driving arrests.
Given that the new interlock law is a year away and that distracted driving is only increasing in the state, it's not surprising that California has taken the top spot. It also seems likely that California could continue to claim the worst drivers in the nation into 2018, and that means there is work to do now.