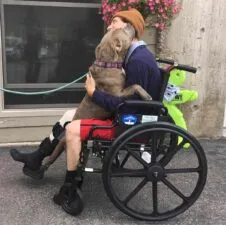 There aren't many happy endings after a DUI crash, and when the dust settles the people involved in the crash are either killed, injured, or arrested for drunk driving. But despite his injuries one victim of a DUI crash that occurred in East Vail, Colorado had a bittersweet ending, and now a man and his dog are both alive and have just been reunited.
Chance Patterson was driving home after work with his two dogs in the car; a German Shepard named Carlitos and a pit bull named Izzy. They had been at a doggy daycare and Patterson had just picked them up. The next thing he knew a drunk driver had crashed into him after crossing the center lane, totaling his car and leaving him with serious injuries. When he asked whether or not his dogs lived through the crash he was told that Carlitos had died at the scene and Izzy was nowhere to be found.
He was taken to the hospital with several broken bones and a lacerated lung, so he couldn't go out and search for Izzy. That's when the East Vail community kicked into overdrive looking for the dog, and as volunteers searched there were several reports of people spotting the frightened pit bull.
Thankfully the owner of the doggie daycare Izzy frequents went out to look for her too, and when she called out to her, Izzy was happy to see a familiar face. She survived the crash and only had a sprained toe, and she stayed with a friend until Patterson was released from the hospital and he and Izzy were reunited.
Despite his injuries and the fact that one of his dogs was killed, Patterson says he has no ill will toward the drunk driver. Although specifics about the drunk driver's charges aren't known, if she's convicted for the DUI crash and she's a first offender she could receive at a minimum up to one year in jail, community service hours, driver's license suspension for at least nine months, and an ignition interlock when she qualifies to have her license reinstated.
It's tragic that he lost one dog, but if you asked him Chance Patterson would tell you that being reunited with Izzy is definitely a happy ending after experiencing the horror of a DUI crash.