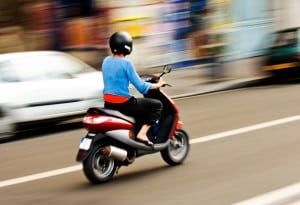 Death by scooter? It might seem pretty unlikely, but if you're in South Carolina you're living in a state where fatalities from mopeds or scooters are on the rise.
The state has seen 18 fatalities on scooters since January 1st, and that number is up from last year when only 7 were recorded for the same time frame. The increase in scooter deaths is due to multiple factors – not only are they small, slow, and hard to spot at night, but one of the biggest issues may be that they are unlicensed vehicles. Anyone can drive a scooter or moped, even people who have had their license suspended for driving under the influence (DUI).
With gas prices soaring, scooter use is on the rise all over the USA. Because it's essentially an unregulated industry, it's not surprising that a business owner in Florida has decided to cash in on the increase in scooter use. He's specifically marketing his low-speed electric scooters or mopeds as DUI Scooters, selling to people who have had their license revoked due to drinking and driving. These types of scooters can't travel faster than 20 mph, but they're being snapped up by people who have no other vehicle option due to a license suspension.
Not everyone is supporting scooters for those convicted of DUI. Todd Rosenbaum of the Northwest Florida chapter of Mothers Against Drunk Driving doesn't like the name, DUI Scooters. He recently told the Tampa Bay Times that the scooters send the wrong message to people in the community – 'It's telling people the DUI is not a big deal. It is a big deal.'
If scooters are becoming popular with offenders who have lost their licenses due to drinking and driving, it might be time to crack down on the scooter industry. If they don't, the jump in 'death by scooter' may get even higher. Check out your state DUI laws here.