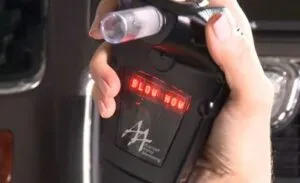 Before ignition interlock devices there was no concrete way to stop a drunk driver from driving their vehicle, but thanks to this immobilizing technology, thousands upon thousands of potential drunk drivers are stopped every single day. The only problem? Ignition interlock penalty compliance.
Long story short, some offenders required by law to use an ignition interlock because of a drunk driving conviction aren't actually using the device. That's a problem, because unless the device is installed and actively being used, there's no way to stop them from driving drunk.
Take Fulton County in New York state as an example: only twenty one percent of court-ordered ignition interlock devices are being installed, and that number is lower than the already dismal twenty seven percent New York state average.
Ignition interlocks have been required in New York since Leandra's Law came into effect in 2010. The law, named after a young girl killed by a drunk driver, requires all offenders in the state to install an ignition interlock device.
In Fulton County there have been almost four hundred and fifty drivers required to use ignition interlocks since 2010, but only ninety five drivers have installed one. Where does that leave the other three hundred and fifty drivers? Buses, cabs, or, as is most likely the case, driving on a suspended driver's license.
Ignition interlock compliance is a big problem in other states too. Wisconsin plans to close operating while impaired (OWI) penalty loopholes so offenders can't skirt their ignition interlocks. Although they are court-ordered in the state, offenders aren't following through and actually installing them.
That could be because the punishment for lack of compliance is pretty easy on the offender. If someone is caught and they haven't installed their ignition interlock, they get nothing more than a traffic ticket. If they manage to pass laws that toughens up the penalty, that offender will now pay up to $1,200 in fines and could even go to jail, all because they skipped the interlock.
Ignition interlocks only work if they are installed. If a state has put the effort into passing an all offender ignition interlock law, they need to put the effort into forcing compliance. It's the only way to keep roads safe for all drivers.
The Friday Fallout: Every Friday Guardian Interlock brings you a unique drunk driving case or cases that demonstrate the impact of – or fallout from – drunk driving.