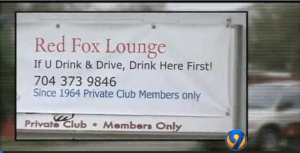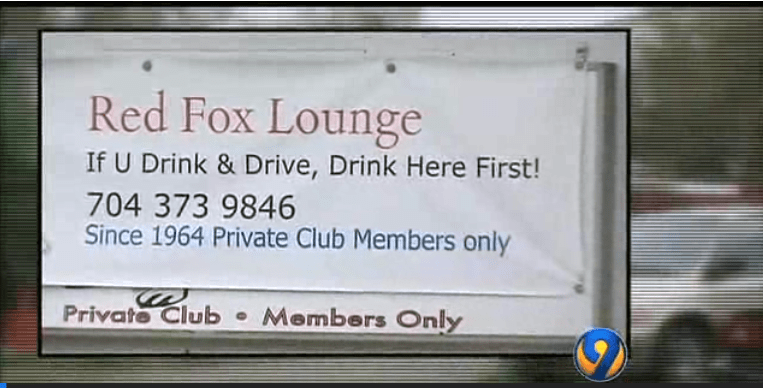 There are certain things you can encounter during the day that are so surprising you really have to say, "What the…" when you hear about them, and that's the reaction a sign at a local bar in Mecklenburg County, North Carolina is getting locally and on the Internet.
Outside of the Red Fox Lounge hung a sign that said, "If U Drink & Drive, Drink Here First!" Not surprisingly, people were shocked when they saw it, and a number of them contacted North Carolina's Eyewitness News. They in turn contacted the Department of Alcoholic Beverage Control about the sign and a warning was immediately issued to the owner of the bar. Turns out, it's actually illegal to have a sign like that in North Carolina. Not only is it irresponsible, it promotes unsafe driving practices and that's a big no-no according to the Department of Alcoholic Beverage Control.
Does the owner think he did anything wrong? It turns out he thought he was promoting safe driving. After he taped over the sign following his warning, he told Eyewitness News that he would rather have customers drinking at his establishment where he could monitor how much they drank than other places where they don't.
He's lucky all he had to do was tape over the sign. By encouraging people to drink at his bar before driving, he could be held liable for any driving under the influence (DUI) related crash his patrons may be involved in. According to the Department of Alcoholic Beverage Control, it's illegal for bartenders and retail clerks to knowingly sell alcohol to an intoxicated person, and if there was a crash, he could be held responsible. There have been several bars in New Mexico that were fined and had their license suspended for that very reason.
The bar owner might not think he was encouraging drinking and driving, but the sign really does speak for itself. What would you think if you saw this sign in your area?
Image from Fox8.com