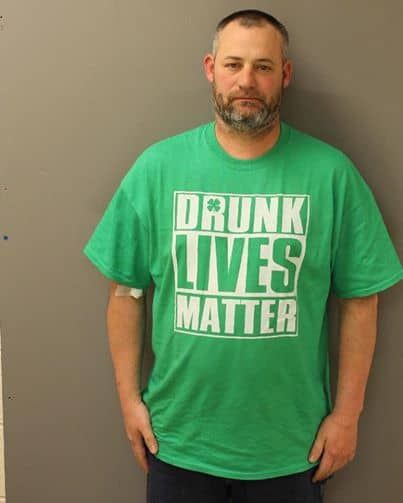 On St.Patrick's Day you'll find plenty of people wearing green and celebrating the luck of the Irish. These party goers will drink green beer, spend the night in Irish pubs, and hopefully get home in one piece. Despite the party atmosphere, it's inevitable that the police end up with more than a few stories to tell after it's all over, and one story about a Pennsylvania drunk driver will give police something to talk about for years to come.
It all started when police spotted a green Ford truck around midnight on St.Patrick's Day. The driver was stopped because police spotted him committing several traffic violations, and when they pulled him over they suspected him of drunk driving. Taking him in for a blood draw, they discovered that his blood alcohol concentration (BAC) was .217.
That's a high reading for anyone stopped for driving drunk, but what really stood out about this Pennsylvania drunk driver was that he was proudly wearing a bright green St.Patrick's Day t-shirt that said, "Drunk Lives Matter."
Yes, the t-shirt was intended as a joke for St.Patrick's Day. Although it was a tasteless joke for obvious reasons, the ultimate irony was how the wearer of the t-shirt ended up arrested for drunk driving. What's also ironic is that his mug shot was put on the Newville, Pennsylvania Police Facebook page, and from there it was shared all over the Internet.
Not only has this man, his St.Patrick's Day t-shirt, and his unhappy mugshot gained infamy, as a Pennsylvania drunk driver he's going to pay fines, he may lose his driver's license, and if he refused to submit to a breathalyzer he'll have to drive with an ignition interlock.  Clearly the luck of the Irish was not with him this St.Patrick's Day.