Ignition Interlock Worcester Massachusetts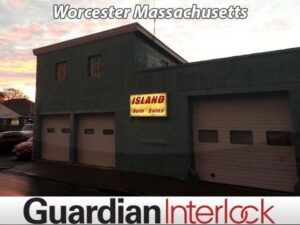 Island Auto Sales is owned and operated by Mack Fairbanks, and have been serving drivers in Worcester Massachusetts for almost 30 years. Their service facility has a large office and five vehicle service bays. They have three service technicians, a professional 24/7 towing company, and body and repair shop. They have Guardian Interlock trained breathalyzer installing techs and office personnel to perform hand set monitoring of your ignition interlock device. Their certified car care professionals are happy to answer any of your car care questions, from simple oil changes to transmission replacements. Island Auto knows how important it is to build customer trust through fair prices and through their commitment to impeccable service. They understand that it is important as a customer, that you feel confident throughout your car repair process from beginning to end.
Island Auto Sales is affordable and very honest. The owner Mack even took the time to show me where and what was going wrong with my truck. Both the owner and the receptionist are very polite and professional people. I highly recommend Island Auto Sales as the place to go for your vehicle troubles. Thanks for everything! ~ Jesse B. – Facebook Review
With continuous education, their staff works to stay on top of the cutting edge technology that continues to grow around us in automotive repair, as well as our equipment upgrades for your best customer experience. Being a large franchise doesn't always make you better! They do it right the first time and Island Auto Sales continues to stand by it's reputation. Island Auto Sales features:
ASE Certified Professional Technicians
Fully Insured in the city of Worcester for major and minor mechanical auto repairs
Fully bonded and insured by the state of Massachusetts for Auto Body Repair
Licensed Claims Adjuster on Staff
Guardian Interlock certified ignition interlock technicians
Island Auto Sales is proud to be a part of the Worcester community crime watch, as well as proud of their staff for volunteering their time in coaching the Worcester Youth Soccer League and Girls Inc.
Island Auto Sales is located in the center of the Historic Canal District and Crompton Parks area. Their shop is easily found from many main intersections including: The Massachusetts Turnpike, Route 290, 90, 146, 122, and popularly known to the city, Kelley Square. Island Auto Sales is surrounded by many recreational parks, pubs, restaurants, hair salons and more. They are only a couple minutes from the famous historical Union Train Station of Worcester. The large Blackstone Valley Mall in Millbury Massachusetts is moments away for shopping in all sorts of stores and many restaurants to choose from. The well known Holy Cross College is also right around the corner from Island Auto Sales. Whether you would like to eat at many restaurants such as the Olive Garden or a nice diner, there are so many to choose from while they install your breathalyzer or repair your vehicle!
You'll receive expert care and service at Island Auto Sales, our service center in Worcester Massachusetts. Our experienced technicians will install your ignition interlock device and provide comprehensive device training. You may also come to this location for your scheduled monitoring. Fill out our form to receive a $20 discount on your installation fee and call 800-499-0994 to schedule an installation.