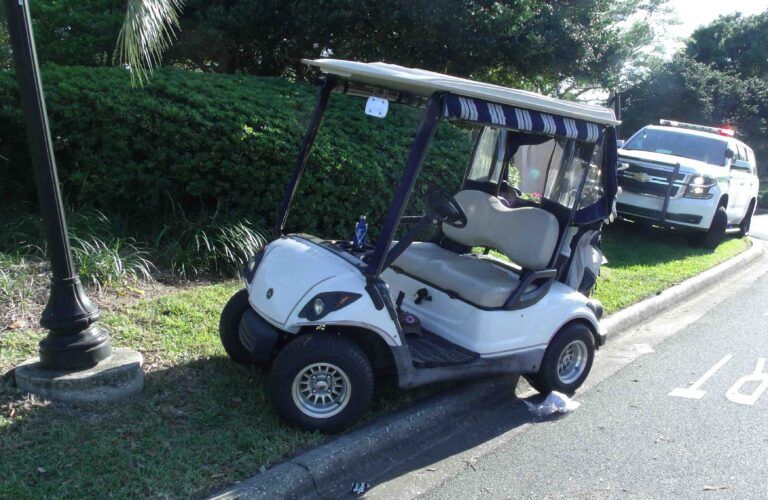 There is a golf cart DUI problem in Florida that's been growing steadily over the past few years, and it's not slowing down anytime soon.
It's definitely not as severe as drunk driving in cars, trucks, or boats, but it's still bad enough that people are severely injured thanks to someone mixing alcohol and driving a golf cart.
If you want an example of what can happen if you drink and drive on a golf cart, just ask a man who was  arrested recently in Wildwood, Florida. He was visiting his parents in a gated Florida community when he asked his dad if he could borrow his golf cart to go to the local bar. After spending some time there he left the bar with a woman, and as they were driving home together she fell off the golf cart.
The driver couldn't lift her and she couldn't stand on her own, so he decided to drag her to a median and lay her down in the bushes. That's where he left her, and despite the fact that she was bloody and clearly injured, he didn't bother to call 911 or get help in any way.
Thankfully someone saw her there and did call the police, and it's a good thing they did. She was suffering from life-threatening injuries. Those injuries may be why the police found the driver with blood all over his clothing.
That's not really something you want to explain to your dad when you return his golf cart, but police may have done the explaining for him: after the suspect was arrested for golf cart DUI and hit and run, he was taken to jail. Unfortunately the victim in this case died of her injuries a few days later, and although he hasn't been charged yet, he may be answering for a lot more than drunken golf cart DUI.
It's one more crazy drunk driving story for the Florida record books, and it goes to show how dangerous a golf cart can be and how the Florida golf cart DUI issue isn't going to disappear anytime soon.