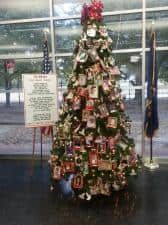 Christmas trees are supposed to be full of lights and ornaments that bring back happy memories. The tree in the Louisiana State Troop police office brings back memories, but they aren't of the happy variety.
For 5 years the police officers have displayed a tree dedicated to the Louisiana chapter of Mothers Against Drunk Driving (MADD) and all of the people lost due to drunk driving in the Louisiana area. The tree is a vivid reminder for the officers and anyone who sees it about the continual devastation of drunk driving, and shows how these people aren't statistics – they're real people with families who miss them, especially at this time of the year.
The department held a dedication when they put the tree up, and they invite anyone in the area to who has lost a loved one to drinking and driving to bring in a photo and add it to the MADD tree. Unfortunately, there are still a lot of people in the state who can be added to the year every year. In 2012, Louisiana lost 241 people to alcohol-related crashes, and 5,614 people were injured.
But there is good news in Louisiana – since passing an all-offender ignition interlock law in 2007, driving under the influence (DUI) deaths have dropped by 40%. Improved DUI laws include 12 to 24 month license suspensions for first offenders, up to six months in jail, fines up to $1,000, and an ignition interlock requirement for 12 months to 2 years depending on your blood alcohol concentration (BAC) at time of arrest.
While the MADD holiday tree will continue to honor all those who have lost their lives to the senseless act of drinking and driving, thanks to Louisiana's all-offender ignition interlock laws, maybe there won't be new faces added each year. This holiday season, make the right choice – don't drink and drive.
Photo credit – MADD Louisiana