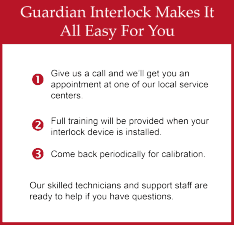 Having Guardian Interlock installed in your vehicle is a fast, easy process, and it's the first step to completing your required ignition interlock program.
Once your Guardian Interlock is installed and you've been using it for a while, you'll be required to return to the Guardian service center so they can download your event logs and send them to the authorities. The state will require you to visit the Guardian service center once every 30 to 60 days, and the number of visits you will need to make will vary depending the state you live in and whether or not you had any monitoring violations. It's easy to keep up to date with your appointments too – your Guardian Interlock will show the number of days until your next appointment when it powers up in your vehicle, and you may receive reminders from the service center as well.
What happens if you don't service your vehicle or you miss your appointment? If you fail to bring your vehicle into Guardian Interlock's service center when it's scheduled, your vehicle will lock you out and you won't be able to drive it. The vehicle will then need to be towed to the service center.
Part of why Guardian Interlock makes completing your program easy is because they take care of all of the state paperwork. This includes details of your installation and all interactions with your interlock. As part of Guardian's service, the onboard database capturing your compliance events is downloaded whenever you bring your vehicle in, and this information is made available to authorities at any time.
From the time your interlock device is installed to when your program is complete and the interlock device is removed, Guardian Interlock takes care of everything. All you'll have to do is make sure you never get behind the wheel of your vehicle after drinking.