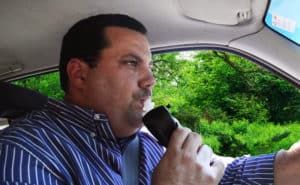 The news is full of stories about drunk drivers violating Wisconsin OWI laws, and that's not really surprising all things considered. At this time first time offenders who are arrested for Wisconsin OWI receive what amounts to nothing more than a traffic ticket.
But letting those first-time offenders get off easily can result in that person becoming a second, third, or four-time offender, and once they get to that point the Wisconsin penalty system will kick in and they'll be forced to pay the price.
Unfortunately a lot of offenders seem to be weighing whether or not they want to actually comply with those penalties, many people may be skipping out on their ignition interlock program. According to the Wisconsin Department of Transportation, there were over 300 convictions relating to either tampering with or failing to install an ignition interlock.
An ignition interlock—a device that requires the drunk driving offender to blow an alcohol-free breath sample before the engine will turn over, is required to be installed on every repeat Wisconsin OWI offender's vehicle. They are also required for any first-time offender who is arrested with a blood alcohol concentration (BAC) of 0.15 or higher and anyone who refuses the breathalyzer when suspected of drunk driving.
Without an ignition interlock to stop a convicted drunk driver, that driver can continue to get behind the wheel while drunk. If that happens, he or she could easily crash and kill someone or themselves. That's why the Wisconsin Bureau of Transportation Safety plans on creating a ignition interlock monitoring program.
In order to monitor all ignition interlock offenders, the bureau will need to pair with law enforcement and keep track of all offenders and all data relating to an ignition interlock. From the moment of arrest that person will need to be tracked, and that's a big project for the state.
But out of all the states that should make the effort, Wisconsin is at the top of the list. More than fines, fees, and even jail time, ignition interlocks need to be part of a drunk driver's rehabilitation program. If they aren't, there's no way to change their behavior.