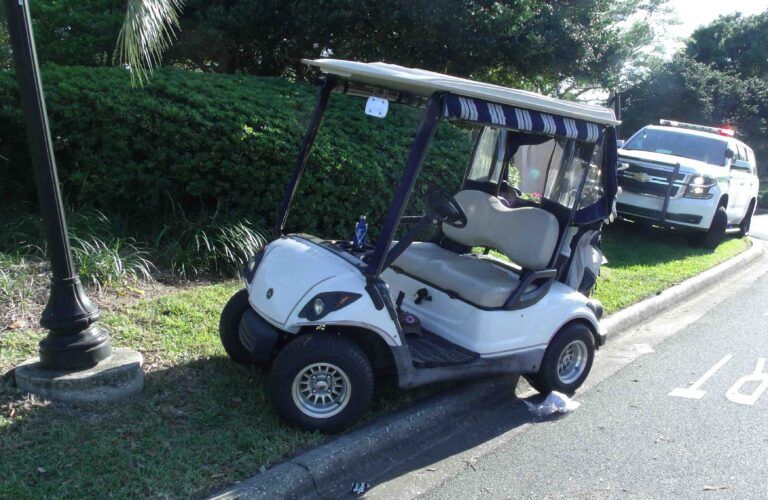 When you drink alcohol and get behind the wheel of a vehicle, anything can happen. Crashing and injuring or killing someone isn't just a possibility, it's very likely when you're drinking and driving. Although most people think it can never happen to them, it can and will happen even closer to home than you think.
Case in point? A woman in Tennessee was arrested for vehicular assault, implied consent, and driving under the influence (DUI) charges after she was involved in a golf cart crash. She told police she was driving the golf cart to get food, and she had a friend beside her and her husband and another male passenger standing on the rear of the car holding onto the roof. She made a turn too quickly and her husband and the other male passenger were thrown from the golf cart.
When police arrived they found the female driver with blood shot eyes, alcohol on her breath, and several cans of open alcohol in the golf cart. They also found her husband in grave shape, and after he was transported to hospital via helicopter, he died of his head injuries a few days later.
The female driver refused field sobriety tests and would not voluntarily provide a blood sample, so the police obtained a warrant and she was forced to submit a blood draw.
Although the driver is from Illinois, she'll face penalties for drinking and driving according to Tennessee DUI law. Her vehicular assault charge is a Class D felony that requires jail time, even for a first DUI offender. Tennessee is also an ignition interlock state, so when she receives her a driver's license again, she'll be required to drive with an ignition interlock.
A crash like this is a tragic way to learn a hard lesson: drinking and driving, even on something as innocent as a golf cart, has serious and long term consequences. If you think it can't happen to you, think again.