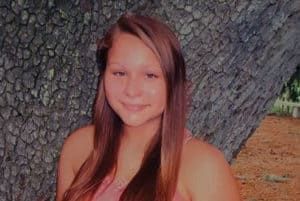 There are a lot of ways to spend a Saturday morning in Gainesville, Florida. The most worthwhile way to pass this coming Saturday – 7 April 2018 – would be a walk to raise funds – and awareness – for the fight against drunk driving. The event is the Gainesville 2018 Walk Like MADD, organized by the northeast Florida chapter of Mothers Against Drunk Driving.
You don't need a good reason to take a walk, but there is a very good reason for this one: her name is Emily Cook, a 15-year-old girl high school freshman who lost her life because she rode with a driver she didn't know had been drinking. The driver lived, but Emily and her 13-year-old friend Ashely Ertle – the driver's daughter – were killed. That was in 2014.
Emily's mother, Mary Kelley, is providing the momentum for the event. The goal, according to Judy Cotton, Program Specialist for the Northeast Florida MADD, is "to bring awareness to this senseless and 100% preventable crime and to end drunk and drugged driving once and for all."
MADD's motto is No More Victims. The organization uses funds raised to support anti-drunk driving legislation (no-refusal laws, mandatory ignition interlock laws, and other proven measures), to help victims, and to raise awareness of the devastation that impaired driving causes on our roads and streets.
The route of the walk, which begins at 9 a.m., will pass by the scene of the crash on NW 53rd Avenue.
Participants who would like to walk, join a team, or create a team can register with MADD online. For some it will be a pleasant walk and a learning experience. For others it will be a time of remembrance. We hope that it will be another step toward No More Victims in Florida and beyond.
Gainesville Walk Like MADD 2018
Date: April 7, 2018
Place: Trinity Methodist Church
Registration: 8:00 a.m. – 9:00 a.m.
Event: 9:00 a.m. – Noon