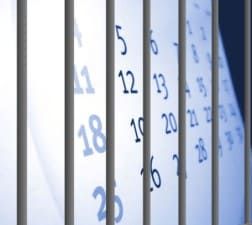 You'd assume someone convicted of a crime and handed a jail sentence would stick around and work their way through the penalty handed to them by the judge. That's usually the way it goes, but it doesn't always happen that way. One man in West Palm Beach is an example of this – he skipped town for 14 years on a Florida drugged driving charge.
In May of 2000, the man ran a red light in a Ford F-150 and crashed into a Nissan Quest driven by a married mother of two. He was high on the drug GHB at the time. The crash was so violent that a witness said the car seat was pushed toward the back of the van, and she died of her injuries.
The man was convicted on a drugged driving charge in Florida in 2001, but he didn't take the sentence seriously. When he was ordered to show up for his jail sentence in March of 2003, he never showed up.
He appealed the conviction in Palm Beach County court, and when that appeal failed he cut off his ankle bracelet and fled to the Bahamas.
He did spend time in custody in the Bahamas relating to the charges in Florida, and after he exhausted all of his appeals and was ordered to be extradited, he was picked up and sent back to the USA. Now he's facing two failure-to-appear charges in Palm Beach County, and it seems unlikely he'll be able to walk away again.
A DUI is considered driving under the influence of alcohol, drugs, or both, so a drugged driving crash like this one comes with the same fines, penalties, and in this case, jail time, as a drunk driving crash. He may have cut and ran from the consequences, but just like time doesn't heal all wounds, time also doesn't clear your record when you've killed someone due to drugged driving.