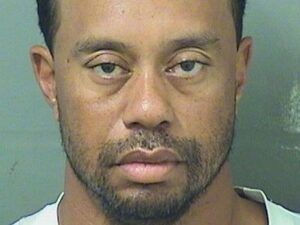 Everyone knows how dangerous drinking and driving is, and yet people still do it every day. Celebrities are no exception, even though when they are stopped for DUI they know it will turn into a circus really quickly.
Tiger Woods is the latest celebrity stopped for DUI in Florida, and if the general public models their own behavior after avidly watching the actions of famous people, he's a good example for everyone that you can be arrested for DUI without taking a sip of alcohol.
Woods was found asleep in his vehicle on the side of a highway in Jupiter, Florida. The dashcam video of the arrest shows that when police approached, he was extremely confused about where he was and his speech was slurred. Police asked him to perform field sobriety tests and he attempted to comply, but he struggled. He also stated he was coming from LA and heading to Orange County, but he was in Florida.
He was cooperative when asked to submit to a breathalyzer test, and when he blew his result was negative for alcohol. If he wasn't drinking, why was he arrested for suspicion of drunk driving? There's a few reasons.
You can be stopped for DUI if you're under the influence of drugs
DUI isn't just for alcohol; you can be arrested for DUI if you're under the influence of recreational and prescription drugs. In Wood's case, having drugs in his system rendered him too impaired to drive.
You can be arrested if you're in physical control of the car
The vehicle doesn't have to be actually moving for someone who is impaired to be arrested for DUI. If, like Tiger Woods, the keys are in the ignition and you're behind the wheel, you can be arrested for DUI because you had physical control of the vehicle while impaired.
Just like any celebrity stopped for DUI, it's going to take a while for the firestorm over Woods' impaired charge to die down. Whether he's officially convicted and is required to pay the fines and penalties of a Florida drunk driver is still up in the air, but it's safe to say he's one person who's learned how easy it is to be arrested for driving under the influence.