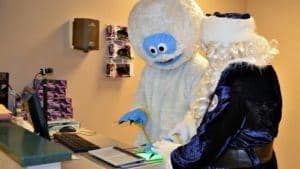 The weather outside is frightful, and so are the conditions on the roads in Oregon state. That's where, according a news release by St.Helens Police Department, a strange white creature that goes by the name of Abominable T. Snowman was arrested for DUI in Oregon.
It sounds like a tall tale, but it's not a plot you'll see in any holiday movie. Abominable T. Snowman was arrested for drunk driving by an honorary police officer named Officer Claus. Apparently Officer Claus is an elusive officer who only appears during the busiest drunk driving season of the year. This year he managed to nab his prime suspect after he made the poor choice to drive while over the legal limit.
He admitted to driving home after a party where he imbibed too many glasses of peppermint schnapps, and Mr.Snowman was "arrested" on charges of DUI in Oregon. He was also charged with reckless driving. When asked what his blood alcohol concentration (BAC) was at the time of arrest, Officer Claus stated that he was .16, double the legal limit.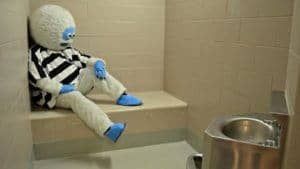 Mr.Snowman was fingerprinted and sent to cool his heels in a jail cell, and the last anyone heard of him he was waiting for his court date to appear on DUI charges. Officer Claus made a stern statement in response to the arrest: "Mr. Snowman is very lucky that more serious property damage or injury to a pedestrian or fellow driver did not occur. However, his holiday season will be significantly less cheery this year as he faces potential jail time and fines. We hope that he can be a lesson to anyone that may consider drinking and driving during the holidays."
Whether you've been drinking alcohol, using marijuana, or have ingested some other type of drug, it shouldn't take the example of a mythical creature like Mr.Snowman to stop you from getting behind the wheel while impaired. That's why the moral to this story is simple: the best way to stay safe during the most dangerous time of the year is to always drive sober.